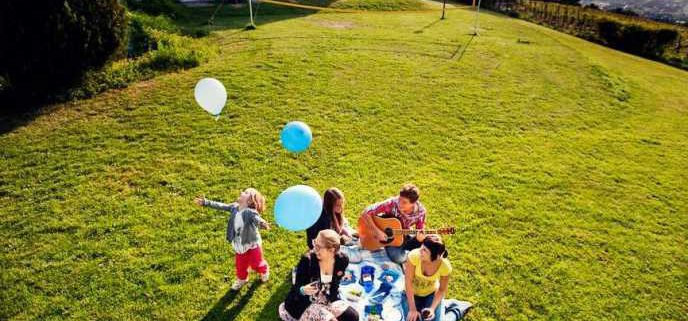 Spring season – everyone wants to spend as much time as possible outdoors enjoying the first warm sunlight of the year, relaxing in fresh grass and recharging ones batteries. For many of you for such a perfect day also perfect catering is needed and nothing suits better than a great picnic to spend a day full of relaxation and enjoyment. But in a foreign city most of the times you just don't know where to get a picnic basket from and where the best places for a picnic can be found. We have looked for you in order to offer you a picnic-guide for your stay. We have found great spots for every guest of our hostels – that's for sure.
Lainzer Tiergarten – Austrian wildlife, great views and intact nature
As one of Vienna's biggest refuge for its wildlife the Lainzer Tiergarten is an exception within urban Vienna. With a little bit of luck you can spot deer, boars or pheasants within the area. In this great, green surrounding hiking paths and forest clearings invite you for a great hike or some relaxation – a perfect basis for a happy picnic afternoon. For a relaxed picnic day we can recommend you to get a picnic basked from the Hermes Villa. Just a 10 minute walk from the Lainzer gate this restaurants offers a great variety of picnic baskets which can be purchased from only € 11,90.
A half an hour walk from the Hermes Villa you can find the forest clearing Wienerblick. This area is a perfect spot for a picnic. The restaurant Hermes Villa offers its picnic fans moreover some games for rent. You can choose from boccia, badminton, dice games and many more. All of these games are for free to rent, only a deposit has to be left at the restaurant. With that great combination of offers the Lainzer Tiergarten and restaurant Hermes Villa offer everything needed for a perfect spring day in the 13th district of Vienna. From Hostel Hütteldorf Vienna you can get there by car within 10 minutes. With public transport its best to take the bus to St. Veiter gate. It takes you about 15 minutes from our hostel.
Where: Restaurant Hermes Villa, Lainzer Tiergarten
When: During spring and summer daily from 8.00 a.m. – 8.00 p.m. (Restaurant Hermes Villa: Tue – Sun: 9.00 a-m. – 7.00 p.m.
Entrance fees: free of charge
How to get there: Restaurant Hermes Villa can be reached via the St. Veiter gate. From Hostel Hütteldorf Vienna you take bus 53A and bus 54A until you reach the station St. Veiter Tor.
Wilhelminenberg – Relaxation in front of your terrace.
Why seek far afield when the good is close by? Directly in front of Palace Hostel Vienna you have one of Vienna's best picnic spots. Not without any reason many locals visit the park at weekends to relax from everyday routine. We are glad to offer you a picnic basked with delicious sandwiches and drinks. From our park you have a great view on Vienna. Surrounded by vineyards and big trees you have the chance to relax in our loungers. Where else is that possible? If you are in search for a special delicacy you can also order a picnic basket from restaurant Villa Aurora. Unfortunately those are not really cheap with a selling price of € 50.
Where: Wilhelminenberg
When: opened all year round
Entrance fee: free of charge
How to get there: Directly in front of Palace Hostel Vienna. Just open your balcony door and stroll around.
Burggarten – green oasis in the city centre of Vienna
The Burggarten is a very special picnic spot in Vienna. As one of few public parks within the first district it is authorised as a picnic park. Directly behind Hofburg palace this park offers a terrific setting and allows its visitors to relax in the middle of all the hustle and bustle of the city. Here you have, due to its great location in the city centre, the possibility to sample your very personal picnic-creation. Just a few steps from the Burggarten you find supermarkets, restaurants and fast food selections. Just grab a blanket or sit down on the fresh green and enjoy a picnic within the city.
Where: Burggarten, directly behind Hofburg Palace
When: opened all year round. (Summer: 6.00 a.m. – 10.00 p.m., Winter: 6.30 a.m. – 7.00 p.m.)
How to get there: Close to the metro station Volkstheater. From there only pass the Museum of natural history. Located directly at the Ringstraße. From Palace Hostel Vienan you take U3 from Ottakring to Volkstheater. From Hostel Hütteldorf Vienna you take U4 to Karlsplatz. Either you walk from there or you take U2 for one station to Museumsquartier.
https://hostel.at/wp-content/uploads/2016/05/shb34-1.jpg
430
688
Hostel Wien
https://hostel.at/wp-content/uploads/2020/02/hostels_logo-optimiert.png
Hostel Wien
2016-05-02 15:03:19
2016-05-02 15:03:19
Picnic in Vienna